Karanos Solitaire
Karanos Solitaire
Karanos Solitaire is a single-player card game using a traditional deck of cards with an original ruleset, built on grouping cards into best scoring combos.
Features
Minimal interface

Relaxing gameplay

Many cardback options

Color themes
Demo
Demo is the full game with a "Demo" label on the cardbacks. Try it out.
---
Rules
You can play the game using your own deck of cards following the rules below!
Goal
Your goal is to remove all cards from the game, maximizing your score.

Setup
Remove all face cards from the deck, keeping only aces and numerals.

Shuffle the deck, then reveal the top 3 cards next to the deck. Like so: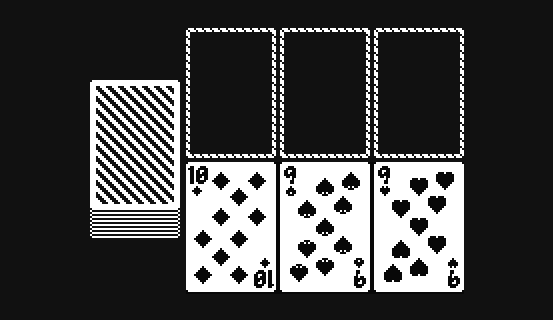 Available Actions
Move a card from the bot row to the top row, reveal a new card

When the deck has one card left, flip it over, use it as a bot row card

Move a card from the top row to the back of the deck

Remove top row cards matching a valid combo (below) from the game

Remove a top row card from the game
Combos and Points
When a combo is matched and the cards are removed from the game, you gain the number of points the combo is worth. The following are all possible game combos and their point values:
| Name | Matches | Value |
| --- | --- | --- |
| Pair | ⠀⠀⠀⠀⠀⠀⠀⠀ [A+A] or [2+2] or [3+3].. | 2 points |
| Chain | ⠀[1+2+3] or [2+3+4] .. or [9+10+A] or [10+A+2] | 3 points |
| Flush | ⠀⠀⠀⠀⠀⠀⠀ any 3 cards of the same suit | 3 points |
| Royal | ⠀⠀⠀⠀⠀⠀⠀ both chain and flush | 7 points |
| Triple | ⠀⠀⠀⠀ [A+A+A] or [2+2+2] or [3+3+3].. | 8 points |
Whenever a single card is moved from the top row, reduce your points by 1.
Furthermore, If all cards are used as a part of a combo, gain additional 11 points.

Victory
The game is won if you score 40 points or more, but no reason to stop there!
Purchase
In order to download this GAME you must purchase it at or above the minimum price of $3 USD. You will get access to the following files:
Karanos Solitaire.zip
13 MB
Karanos Solitaire Mac.zip
27 MB
Karanos Solitaire Linux.zip
15 MB
Download demo
Comments
Log in with itch.io to leave a comment.
this is a very nice diversion, good work. the "indie" graphics setting got a chuckle out of me, lol

It's a simple game that can be seen everywhere, but neat graphics give me a sense of immersion. It would have been better if the rules of the game were not only in text and there was an example image.
"./Karanos Solitaire Demo.x86_64: error while loading shared libraries: libsteam_api.so: cannot open shared object file: No such file or directory" ubuntu 20.04
Thanks for the report, looking into it should be fixed now, let me know if it still does not work.
This game is very satisfying.
15 day after, I'm still playing at least one game a day (often more)